You heard me right. That's forty, FORTY (Cuarenta!) outfits that I put together in this accursed game that I can't quit despite all the shade I've thrown at it. Sigh... Anyway, with this amount I have finally broken my record of 200! WOO! I didn't number them, though, because I lost track and I can't be bothered to go back and recount on my Photobucket account so don't judge me.
Cue ambience music (press play)!
And now for the outfits (with descriptions from left to right):
Pretty in Paisley
: I love lace and now that there's an abundance of lace dresses, it is mandatory for me to wear them all unless they suck. Shoes match the thin waist belt perfectly. Don't ask me what the decoration on them is because I can't tell either.
Chocolate Macchiato
: The first of many sets featuring some type of pannyhose, stockings, etc. that you will see in this compilation. The reason? Because I wanted to use the shoes on all of them. These particular stockings have a small ribbon pattern. :3
Black Tie Oreo
: The name is random but fitting for this black and white look, but then I looked it up online and found this really cute picture of these cookies. Click
here
. SO CUTE, right?! This is also one of the rare times you'll see me sporting a hat.
Carousel Ride
: I love the patterns and the colors remind me of cotton candy. The simple pumps and messy curls work so well together with the dress. I can totally see my character on a carnival date in this.
Upper East Side
: The jacket is everything. From furry cuffs to a lacy neckline and (though you can't see it because of the angle) it comes with a flower ring on the index finger. It's very versatile. The shoes, though, come with these stupid anklets so I deliberately put the pants on to cover them up.
Flower Child
: This dress makes me feel like I'm wearing a really pastel Monet painting and I'm so down for that. The shoes have this baby pink and powder blue jewel decoration on the toe box and match nicely.
Marshmallow Chick
: I put this together just because the headband matched the blouse. Lol I could've added matching shoes but I don't believe in flats so I kept it simple with neutral shorts and nude heels.
Cozy By The Fireplace
: I've been wanting to wear this hair for a long time so I decided it would pair best with this fun fall/winter-ish outfit that I can see being worn indoors. Would wear it with glossy cinnamon colored lipstick.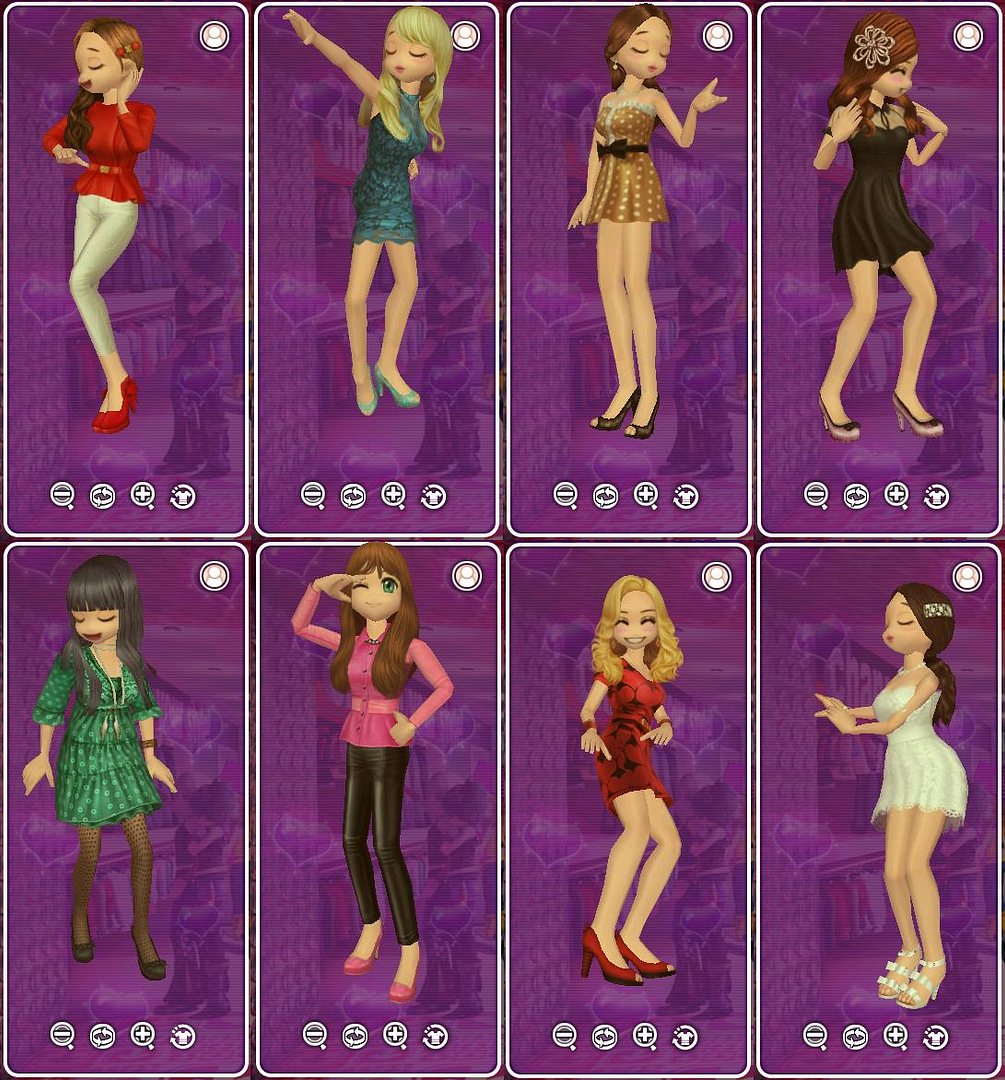 Red Velveteen
: Here we have red and white in what looks like smooth and shiny satin which looks so elegant. I love the matching gold accents on the waist and hair accessories. I picked matching shoes with flowers on the side for added fun.
Lambent Lagoon
: The shades of blue on both the dress and the shoes are gorgeous. The hair was a no brainer since it came with matching earrings and the soft curls work well with the overall look. Loves it.
German Chocolate Cake
: The name given to this look is very fitting based on the color palette (and it's my favorite dessert too). The hair is secured into a half updo by a jeweled hair pin in the back. Adding black lace, peep-toe heels to this dress just raises the adorableness meter.
New Year's Glam
: The shoes are a real pain in the *** to match with anything. If you look REAL close, they are soft glittery pink but from afar they're like an ombre lilac and hardly worked with anything except this hairstyle featuring this shiny hair accessory. So to keep my sanity, I chose that with a simple black dress and moved on.
Evergreen
: How do I justify this look…LOL Besides wanting the shoes, the stockings remind me of the Miniskirt music video by AOA. However, they come attached to these Fugly bubble shorts and this dress, while meh, is the only thing that will cover them up completely with NO overlap. The hair compliments it and it's a nice shade of green so I'm keeping it. :X
Amplified Fuchsia
: The shoes match perfectly. The pants seem to be made of leather which give this look the extra edge it needs especially being paired with the choppy bangs. This is a good non-skimpy outfit great for clubbing.
Dressed Up In Love
: The shoes and the dress already belonged together, but I decided to put my own spin on it by adding this fun hairstyle. I love the curl pattern and the hair comes with gold, heart shaped earrings with red jewels in them which match perfectly. It's much better this way. :P
Frosted Pearl
: This dress walks the fine line between prom, a wedding, and any other special event a white dress is involved in. However, I don't give a damn and will wear white because I want to. –snaps fingers- I chose the shoes to offset the fancy/delicate look of everything else and it looks like it's working.
Beach Blonde
: You may have seen me feature these shoes before but I dissolved that outfit as I ended up not liking it. Anyway, when it comes to me, I don't like showing the midriff. It's just personal preference and I would normally draw the line there. Yet after noticing the bralette top and the printed pants, I thought why the hell not? So I paired the clothes with the shoes and some bouncy curls and got this really fun looking outfit. I like it so it stays.
Queen Bee
: Those shoes are Hot. I always loved the Mean Girls look of simple tops with miniskirts and high heels. This would be a more modernized version of that look with a big, sparkly bib necklace. I heard 2004 called saying they wanted their outfit back and I was like ""Whatever, I'm getting cheese fries.""
Freakum Dress
: The hair has matching stars haped earrings and…just watch the damn music video. No further explanation needed.
Sizzling Summer
: I found it odd how orange and blue are respective complementary colors but it just works. Either way, this risqué dress is old as hell and more than likely people have used it in combination with the shoes but I don't care. I'll just wear it with cascading brown locks on the side to fit my style.
Bold Baubles
: Due to the majority of the items not being properly labeled and different servers varying in mall content, I was unable to find what shoes belonged to this set. Yet, I settled for the next best option which is these matching fuzzy boots. This outfit is really flashy and Idk what occasion it belongs to but I'll wear it anyway. Excuse the manly pose.
Checkered Charm
: Rare hat sighting #2. This dress is bright and funky and I'm so glad that I was able to find a hat that doesn't float over the head or make it huge like most of them do. Bonus points for cute, matching earrings and shoes.
Chanel #7
: I'm looking sharp in this demure but still killer outfit. When wearing this look, I refuse to walk with my crew in a triad formation like a bunch of hobos. If anyone thinks I'm gonna lose social standing in Kappa Kappa Tau, it'll be over my avatar's rich, hot, dead body.
Bejeweled Rose
: I always wanted to wear the dress but didn't out of fear of it being too much. Now, though, I found the shoes and the colors of the straps match the bandeaux bra. Also, the fact that I can look sexy with a short low pony with blunt bangs. ;D