Full Screen Settings
~For anyone who wants to change how Audition is displayed in full screen mode~
***I need to update for recent Radeon drivers, you can follow the same general ideas.
I. I am stuck in window mode?
If you are having trouble with full screen: Please make sure that "Window Mode" is unchecked in the patcher settings. When using the official Redbana patcher, you may have to click on it twice (because it displays an unchecked box when you run it regardless of if you have windowed mode or not.)
This issue does not exist with
X-Patcher
.
Alternatively, you can navigate into the Audition program folder (
C:\Program Files\Redbana\Audition
or
C:\Program Files (x86)\Redbana\Audition
by default) and open the "Config.ini" file in Notepad (or any text editor) which just says:
Change the value to:
0 for Full screen
1 for Window mode
and then save your changes.
If you cannot edit the file in the Programs folder, try copying it to a different location (such as your Desktop), editing it there, and then pasting it back. This is because in some systems, the folder permissions are strict regarding editing program files.
=========================
II. Full Screen Options
Alright, so now there are generally two ways Audition is displayed in full screen.
Full Screen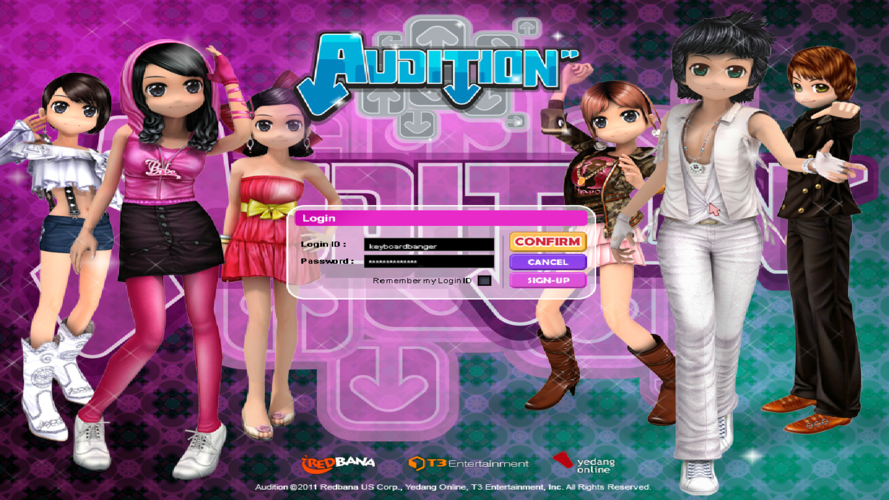 Stretched out to fit your monitor.
Black Bars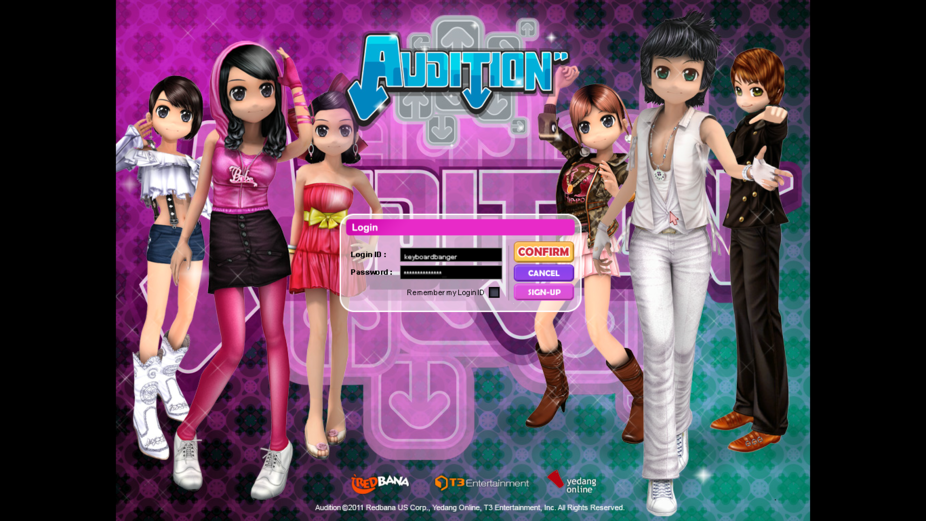 Disclaimer: Screenshots not drawn to scale and may vary depending on how wide your monitor is. I used 1366x768 for these examples.
For the second one, your graphics card keeps the aspect ratio of the game (1024x768) which is 4:3 even when you have a larger native screen resolution like 1280x800, 1280x768, 1366x768 (common 'widescreen' resolutions). This is called
pillarboxing
(related to
letterboxing
, which is what some movies use.)
If you use 1024x768 (or 1280x960 but that's rarer), Audition should fit your screen perfectly.
Most laptops/monitors today use widescreens
16:9 (1024x576*, 1280x720*, 1366x768, 1600x900, 1920x1080)
16:10 (1440x900)
and other variations (1280x800, etc.)
*May not display Audition correctly.
=========================
III. How do I change between them?
You can switch between the stretched and the black bars in your graphics card settings.
Go to Scaling options and look for "Maintain aspect ratio", "Preserve aspect ratio", "Fixed aspect ratio", something along those lines.
If you have trouble finding your graphics settings
Go into your Control Panel
>Display
>Advanced Settings
Find the tab that has your specific video card and open those settings.
Alternatively, you can right click on your desktop and open Graphics Options / Catalyst Control Center (if you see the Intel/ATI/AMD/NVIDIA logo that's the one).
These will vary depending on your video card/driver/model, but for some examples:
Intel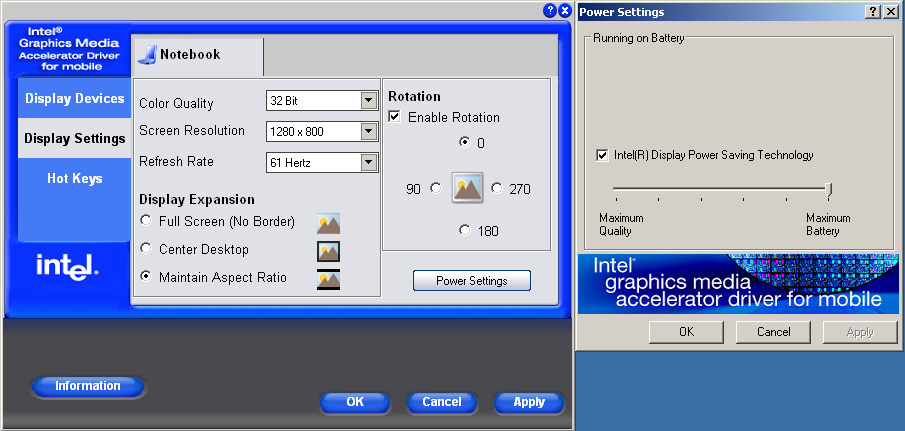 Under "Display Settings".
Under 'Scaling'. (Might have to pick resolution smaller than maximum supported).
ATI/AMD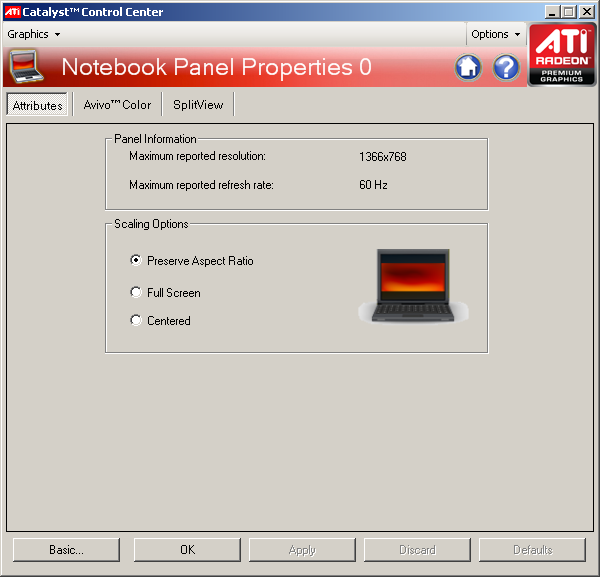 Catalyst Control Center
(For this particular one: Graphics>Desktop and Displays>Click the arrow next to the device at the bottom>Configure)
NVIDIA
It should be under "Adjust desktop size and position", Scaling, pick "Aspect Ratio" for black bars on the sides or pick "No scaling" for 1:1 small size in center, Perform scaling on: Monitor or GPU (both are okay, your choice), click "Override the scaling mode set by games and programs" if it doesn't work. The bottom options you don't have to change.
These are just EXAMPLES, so your settings may look different.
If you are still having trouble, also note that sometimes if you use the maximum supported resolution, the scaling options are greyed out like
here
. Just set your resolution at something below your maximum. I had this particular issue on my ATI based laptop so I'm using 1360x768 rather than 1366x768 (not a big deal). This may happen with any video card model depending on which driver you use.
=========================
IV. Other tidbits
Screenshots:
Will always be 1024x768 regardless of which you choose. If you use pillarboxes, your screenshots will look exactly like how the game looks on your monitor. If you don't keep aspect ratio, your screenshots may look slightly different.
Personally I like keeping everything in proportion with the 4:3 aspect ratio and the black bars don't bother me at all, but everyone has their own preferences!
=========================
V. References for you
Common resolutions by device
==========================
I know this isn't the most asthetically pleasing guide, but I hope this helps someone. Feel free to post productive and constructive comments and I will try to update as needed :)