The Bar
Audition is a musical game that makes the player follow a rhythm via BPM (beats per minute) and each move will be scored by how well you are able to react to every 8th beat. In short, this game relies heavily on muscle memory. Simple right?
In the Spoiler tabs, I added some additional information explaining these concepts for those who like to understand these concepts more. But otherwise I'll keep it short and concise for those who are just getting into Audition or looking for quick tricks to improve.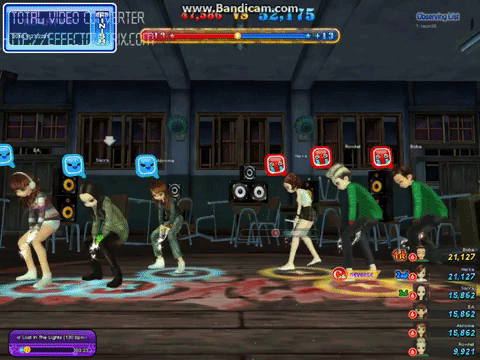 This GIF shows that Audition breaks each move down to 4 beats each time the ball is passing through the perfect meter called a bar. Meaning that if a song is 120 BPM that means in 1 minute you will see 120 beats. And that 120 beats is divided into 4 and at every 8th beat of the 2nd bar, you are requested to ctrl/space for your move. So most importantly a player needs to react to the ball when it is closing in at the 8th beat repetitively.
Level 1-5 are 1 bar (4 beats)
Level 6-12 are 2 bar (8 beats)




Early, Mid, Late Beats

Because Audition is a bit of a dated game, the music they bring can sometimes not be completely aligned with the rhythm and the ball hitting the perfect bar. So when people mention the song is not on beat that's what it means. It is also important to note that everyone's audio setup and feel for rhythm is a little different. Some people tend to hit things earlier or later, so your experience may be a little different. Generally players agree on which songs are significantly and noticeably early/late though.


Early - That means the song beat is a bit earlier than anticipated so if you are playing you will try to ctrl/space bar a bit earlier than what you would usually ctrl/space bar to land your perfect
Mid – This means the song is onbeat and the ball lands perfectly on the perfect bar.
Late – This means that the song beat is later than anticipated when the ball moves towards the perfect bar so try to ctrl/space bar a bit later than what you would usually ctrl/space bar to land your perfect.
Offbeat – The song BPM is incorrectly placed completely meaning the rhythm does not fit the perfect bar at all. Rely on your muscle memory.

METHODS OF IMPROVING

Practice with the bar

Metronome is an excellent device to use to tune in your sense of rhythm and music tempo. This video here will demonstrate how to use Audition with the metronome.
This video is old but it's still gold. :')


If you don't own a metronome I recommend these choices here that you can use online:
I recommend using a metronome from google here: Here
There is also an excellent metronome app for your phone called Metronome Beats if you prefer practicing your rhythm on your free time away from the computer.

Alphard's Personal Boot Camp



To start off, if you want to purely focus on perfecting and rhythm of the music, I suggest playing in C4 (Choreography – 4 Key) with Perfect chance. Practice with the metronome for about 1-2 minutes before playing any songs each game. After that you write down on the excel spread sheet I created of your HIGHEST achieved perfect and HIGHEST achieved chain.




Next is play these list of songs I have recommended, these songs are MADE for purely Audition purpose so they're excellent to use. They are absolutely perfect to practice as the beats is very obvious and clear. I placed them on an excel spreadsheet so fill in your performance per game and watch your improvement annually every day. However you can input your own songs in the list that you find individually you perform well on. That will be INFINITELY better than any of my own songs suggested. My list is set for those who cannot find any songs that they can perform well on their own as it is the universal songs that everyone can perform well on.

NOTE****: I recommend playing on the same BPM consistently per day. So for example if you played 130 bpm, you should stay in 130 BGM to keep your body consistently adapted to 130 BPM. Try your best not to switch around. And to make sure to always use the metronome method before playing the song to be more in tune with the song.

EXCEL SPREAD SHEET HERE: Here

Tape in Perfect Bar

This method only works for some players but not all. I've mentioned before that understanding the rhythm and tempo is the most important and only awareness to perfect bar is king in terms of emphasis of value.

Just simple toggle on Practice mode, and place a tape/mark on your desktop to identify where the perfect line exactly hits.

Rob1n's Enhance Bass Method

Most rhythm songs on Audition beats is from the bass. So you can edit your mixer or download a separate program to enhance the bass to perfect better.
Excellent guide to enhancing your Audio Mixer here(Window 7 and Window 8): https://youtu.be/goJaoT9zP1k